That's right, it's finally out! Thanks go out to all our contributors for the great work (there's too many — see the shortlog!). The highlights of the release follow. Head over to the announcement or release notes for more details.
Dynamic sample rate switching by Pierre-Louis Bossart: This makes PulseAudio even more power efficient.

Jack detection by David Henningsson: Separate volumes for your laptop speakers and headphones, and more stuff coming soon.

Major echo canceller improvements by me: Based on the WebRTC.org audio processing library, we now do better echo cancellation, remove the need to fiddle with the mic volume knob and have fixed AEC between laptop speakers and a USB webcam mic.

A virtual surround module by Niels Ole Salscheider: Try it out for some virtual surround sound shininess!

Support for Xen guests by Giorgos Boutsiouki: Should make audio virtualisation in guests more efficient.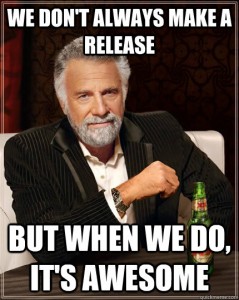 Special thanks from me to Collabora for giving me some time for upstream work.
Packages are available on Gentoo, Arch, and probably soon on other distributions if they're not already there.